[Group Dynamics] invited to attend China Real Estate Asset Securitization Development Forum
Preface
In 2016, in order to invigorate the stock of assets and reduce the leverage of enterprises, the State Council, the people's Bank of China, the Development and Reform Commission, the Banking Regulatory Commission, the CIRC, the Association of Dealers, the Shanghai Stock Exchange and the Shenzhen Stock Exchange have repeatedly issued documents to promote the innovation and landing of asset securitization. Under the stimulation of various policies and market demand, asset securitization business is in full swing.
Among the many ABS products, the real estate asset securitization product (REITs) is the most expected product in the current market.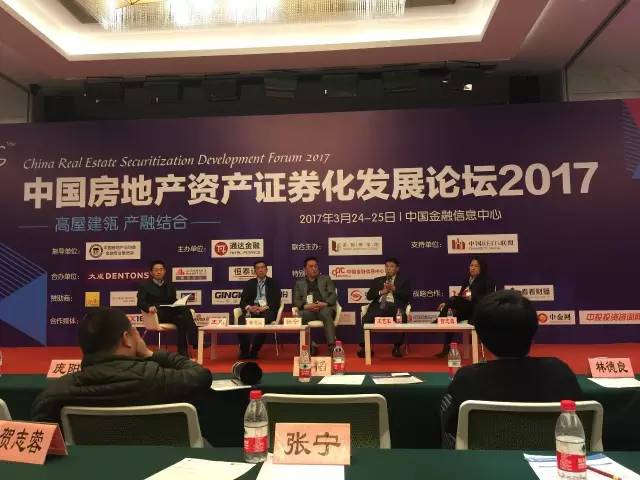 REITs reduces the financing cost and optimizes the capital structure function and the capital demand is large, the real estate industry which emphasizes the asset situation is the natural combination advantage. From a macro point of view, by attracting mature institutional funds into the commercial industry, mainly through bank loans, it is conducive to deleveraging and cost reduction, which is conducive to resolving the financial risks of real estate and promoting the supply-side structural reform of real estate.
Recently, Meiqiao Group was invited by Leiden Business School to participate in the 2017 China Real Estate Asset Securitization Development Forum. Mr. Zhang, a partner of Meiqiao Investment Group, discussed with several guests the ideas and prospects of the Chinese standard REITs as a group guest.

The live dialogue was as follows:
[Mei Qiao Zhang Ning] : All of you here are experts in REITs. When it comes to how to buy them, Mr. Wang, it is very difficult for individuals to invest in overseas securities. The door for individuals to invest in overseas property is now completely closed. We are Maybridge Group, which is a comprehensive real estate developer and a fund manager. From the perspective of American Bridge Group, we welcome the securitization of assets such as REITs very much. I believe that all the comprehensive real estate development is eager to see the early arrival of REITs. However, I quite agree with One of Lin's opinions. First of all, we should think about whether our domestic market has it and whether our system and legal system are ready for REITs. We can say that some of the things we encounter are administrative market barriers. In fact, he is still trying to improve the imperfection of the market. What he is worried about is that the market is out of control. What we are worried about is that the REITs are pushed into the market too early, and what we will face in the future is still a blanket cut from the government. Why is that? For now, including our today from the beginning to the end, I have seen many structural things, we are going to have to also is very good, a lot of markets, including classification management earnings are doing very good, but in actual operation, in terms of the whole market standardization, we in the Hong Kong market, including in the overseas market, REITs summed to ErSanLiu such securities.

[Meiqiao Zhang Ning]: what kind of mentality do retail investors in the Chinese market view, we have not yet reached a consensus, have you accepted this relatively stable, long-term low-income, stable securities products? So I think it's all about what our REITs designers, including our promoters, need to think about, how to build a sound market first, and then release this beast. Thank you.

[host Wang Gang]: Mr. Zhang commented very well. At the beginning of this year, No. 4 was issued, which is basically an ordinary house. To do REITs for us, it is a good thing, because we do not touch ordinary housing ourselves, and we are more about doing non-residential things. On the policy side, it is becoming more and more friendly to REITs, first of all, the prime minister's government work report mentioned asset securitisation, of course, did not explicitly say REITs. And last week the Shenzhen Stock Exchange approved the first order of PPP securitisation. On Mr. Zhang's side, Meiqiao not only has the business of investment and financing, but also has the business of asset management, because we know that REITs is actually divided into very small, shopping malls, apartments, office buildings, medical care, we have the experience of asking Mr. Zhang to do an asset management of their special property types.

[Mei Qiao Zhang Ning]: asset management, I believe that many of the capital companies here, including capital management companies, combined with the specific conditions of each company, will set themselves cyclical and long and long mismatches. From the point of view of Meiqiao, many of the management is based on real estate, because the style of an enterprise is a key point, second, from our point of view, although the economy is a downward stage, but we unanimously judge that the domestic real estate market will not be very volatile in the short term, so we retain a relatively large piece of real estate assets.
Of course, we would very much like to have securitisation such as REIT. Because in the long run, capital management projects or long-term funds are very fond of REITs, stable, low volatility, and have enough profitability. Of course, we rule out some of the more bizarre hype and excessive enthusiasm in the Chinese market. We hope that asset securitisation such as REITs can be broken down into concerns about volatility and long-term stable returns in our asset management as soon as possible. In terms of capital management plans, or long-term funding, is very optimistic.

[host Wang Gang]: thank you, Mr. Zhang, we are also involved in the process of REITs found that REIT promotion is not only from developers, the last time to stop the REITs pilot. The very important characteristics of this round of REITs, especially funds such as social security pension, need to find the direction of long-term allocation. This round of REITs pilot is more powerful and promising than the previous round. Not everyone here knows what the standard REITs is, and there is a REITs like in China. First of all, we do private equity REITs, for a period of time, basically about three years. On the other hand, it corresponds to a conventional asset for an asset management plan. Again, we often use the priority waiting structure to protect the revenue, which is a simple feature of REITs.